There is no better way to experience a taste of freedom and style than our unique, signature luxury Sea Ray Sundeck boat in Isla Mujeres. Amazing moments, adventure, enjoyment, and relaxation await you. Snorkeling in pristine reefs, swimming in clear water, and supreme sailing conditions together with personalized service make this experience unbeatable.
Sip a cool drink and taste delicious fresh ceviche made by our local crew while admiring the stunning turquoise waters of the Caribbean seas. Sunset cruises, special celebrations or maybe just a romantic cruise for two . Our private boat trips are the perfect option to experience Isla Mujeres in a unique way.
What to expect: Get on board and get comfortable! First we will head to the snorkeling area by El Meco reef where you will be able to swim among lots of colorful fish and coral. You will also see some beautiful sculptures (the hands) underwater. This is about 5 meters or 16 ft deep.
After this exciting moment we will cruise around Isla Mujeres bay, enjoying breathtaking views. We can also stop at the shallow waters of La Joya beach and/or North beach for some relaxing swimming  and play with the floating Lily Pad.
Our crew will serve you drinks and our freshly prepared ceviche and guacamole.
Note: Snorkeling is optional, if you prefer a calmer trip, we can explore inside the Makax lagoon or spend more time at the shallow beach. Our trips are completely customizable.
Open Bar is available, you can add it to your cart at the check out. (Vodka, tequila, rum, orange and pineapple juices, sparkling water, Fresca. Beer, bottled water and sodas too)
Pricing and Reservations
Private Sunset Tour
(Sea Ray Boat)
Price for 1-6 people
$500
Price for 7-10 people
$650Starting time 4 pm
Deposit $200
Balance Due Date of Trip

$300 for 1 to 6 people
$450 for 7 to 10 people
Trip includes:
Bilingual Crew
Fresh Fish Ceviche and guacamole and chips
Beer, Water and Sodas
Snorkeling gear and lifejackets (mandatory)
Floating Lily Pad
The boat has an outlet on board to charge cell phones, a toilet and fresh water to rinse off. The audio system is a high-quality stereo amplifier and speakers with Bluetooth.
What to bring: Biodegradable sunscreen, towels, swimsuit on, sun glasses.
Cancellation policy: In the case you book a tour and the weather is not good and the tour is canceled by Harbour Master of Isla Mujeres, we can reschedule the trip or refund your deposit if you don't have available days.
Private Catamaran Rental
Trip Description
Rent a private catamaran for your party only. Watch the sunset, go for a ride around the island and snorkel the best reefs around Isla Mujeres and Cancun in a different way.
Let us know your special requests and we will customize your trip for you to live a unique, special moment in paradise.
Our catamarans hold up to 100 people. There is open bar (vodka, tequila, rum whisky, sodas,water and beer) for everybody while on board the catamaran. We will go to snorkel and have fun around the island! Snorkel equipment is included. This trip is special for parties, bachelor/ette parties and birthdays. You set the date and the time.
We can also arrange food such as ceviche, sandwiches or sushi for an extra fee.
Pricing and Reservations
4 Hours
Starting at $785 USD
Up to 12 people
7 Hours
Starting at $1170 USD
Up to 12 people
Trips Include: open bar, music, bilingual guide, snorkeling gear
+ $20 USD extra per person for dock fee and marine park bracelet.
Let us know if you have a bigger group and we will provide a quotation for a bigger catamaran according to your group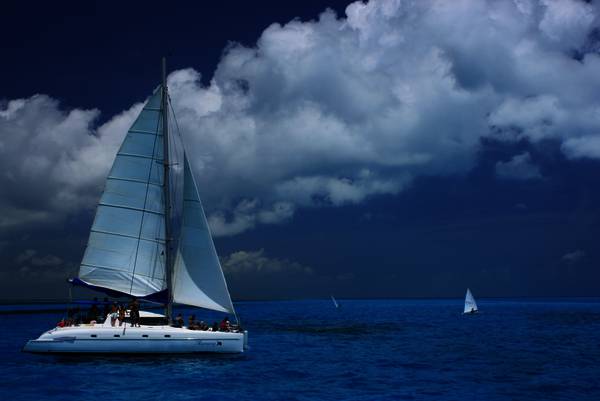 Private Transportation
If you prefer a transport with a driver that will take you wherever you want at your own pace we can arrange a private van for you as well.
Let us know your destination and we will provide a quotation