Xenotes Tour
Trip Description
FOUR DIFFERENT KINDS OF XENOTES IN ONE TOUR!
Dare to live a unique journey into nature with Xenotes Oasis Maya Tour, by Experiencias Xcaret. The adventure begins with a pick‐up van with a friendly guide, who will take you from your hotel to four different kinds of cenotes in the heart of the jungle.
Come and be part of the magic of the cenotes!
Pricing and Reservations
Xenotes Tour
$123.00 USD per Person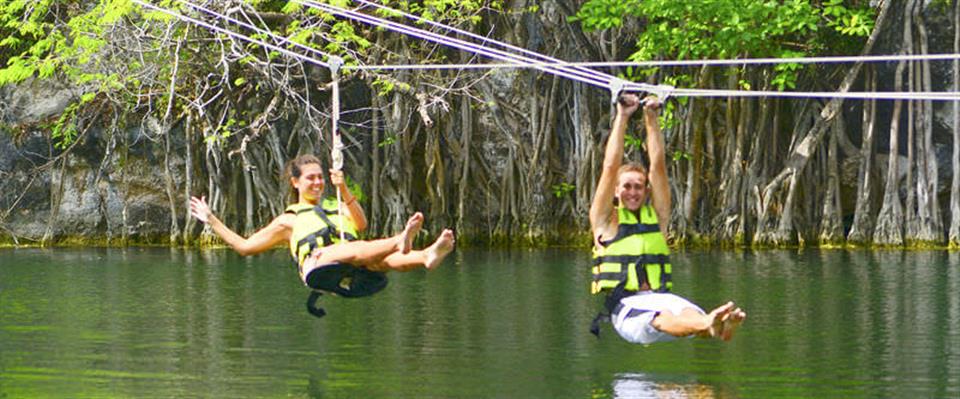 Tour Itinerary
Descend by assisted rappel to a wonderful turquoise blue water cenote , sheltered by an ancient cave.
Fly with fun zip-lines that slide into a refreshing splashdown.
Practice kayaking surrounded by a landscape full of exotic vegetation.
Swim in the refreshing waters of a paradisiac cenote.
In addition, your Tour includes food and beverages, and even the use of two towels, so you have nothing to worry about!
With Xenotes Oasis Maya Tour you can be the intrepid explorer you have always dreamed to be. All the activities are safe and performed in small groups, that allows a personalized attention from your guide. It's ideal for the whole family.
The Cenotes You Will Visit
Open Cenote
Protected by the K'áak ' Alux (Fire), this is where you can enjoy a relaxing time.
Closed or Cavern Cenote
Lu'um (Earth) is the guardian Alux of this cenote, in which you descend by assisted rappel.
Semi Open Cenote
Its guardian is the Ha' Alux (Water) and here you can swim and kayak.
Ancient Cenote
In this cenote, cared by the Iik' Alux (Wind), you can fly over the water on fun zip-lines.